Juran's Quality Essentials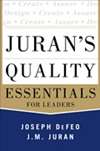 Juran's Quality Essentials
For Leaders
Joseph Defeo
Hardcover,
256 pages, Published 2014
Dimensions: 6 x 9
ISBN: 978-0-07182-591-7
Item Number: P1545
Member Price: $
40.00
List Price: $

40.00
Looking to purchase for a course or large group?
Description
Dr. Joseph Juran was the world's foremost thought leader on improving the financial performance of an organization with "quality management." In this book, Dr. Juran's successor as CEO of Juran Institute, Joseph A. DeFeo, uniquely distills Dr. Juran's life's work on quality with some of today's latest practices into a practical action plan for creating a strong, successful, globally competitive enterprise.
Juran's Quality Essentials for Leaders offers succinct, proven methods applicable to any country, company, or industry, from service to manufacturing. This concise guide explains how today's leaders can:
Embrace quality and not miss an opportunity to improve performance
Lead an organization through sustainable financial change while fostering a culture of quality
Stop useless initiatives by aligning goals with the strategic plan
Challenge new product or service development methods
Create breakthroughs in baseline performance
Ensure repeatable and compliant processes
Simplify macro processes with business process management
Execute benchmarking to sustain market leadership

Real-world examples demonstrate the successful application of the methodologies, tools, and techniques presented in the book. This results-oriented resource provides you with a detailed roadmap for leading a quality revolution in your organization.